I started blogging when I was pregnant with my eldest son Yuri on 2008. I have no one to talk to and my turning point was joining an online group to a parenting site. It was a success making friends with them but felt sadness (ganun ata talaga buntis, may pagka-sensitive). I started my first blog, simpleheartlovesmuch.blogspot.com, I never knew then how to properly named my own blog. And it evolved from time to time. Dahil nanay ako, andaming inaasikaso and whenever I get depressed, I go on blogging. It was my diversion and virtual journal.
As time goes by blogging is very helpful not just to me and for sure for all people who wants testimonial for everything. May it be seeing review for a product you want to try, services you want to experience, places you want to go and so much more.
I am glad to be invited by Mommy Lani to be part of her blogging group, Mommy Bloggers Philippines, which now have 600+ members, and I am proud to say that most of the members here became my true friends, seen them and have some time bonding with them. It's not just blogging that makes us bond, it's the motherhood journey we shared.
I am excited to be part of this year's #mbpgiftswap, and my lucky recipient is Mommy Nicole. I've decided to make a my very own journey box. This is so me and it reflects my whole being as a parenting blogger and as a mom. For I am quite nervous if she will liked it, and she was. I made her happy even if we don't know each other personally.
Gave her beauty facial mask, nose pack and cream. One of my favorite scent of lotion, victoria secret love spell. Maybelline Micellar water for I knew she also loved make up, these things will make her fresh and relaxed. And because I am bento mom, I gave her children cookie cutters for them to use, and a leather type notebook or a planner which she can use for her work as a virtual assistant. Packed with much thoughts and love. Love notes included. 🙂
What gift did I received? 
I was able to received a gift from Mommy Leilani Banzon of charminglani.blogspot.com. A mom who blogs about beauty, arts and craft, business, entertainment, education and even about cars. Thank you mommy Leilani for this wonderful desk lamp, definitely very useful specially working at night. I love the design as well. Perfect for reading and writing errands. 🙂
And we are truly THANKFUL to all the generous sponsors who shares their blessings to 10 lucky #mbpgiftswap winners. Surely, mas special ang Christmas to have these items ♥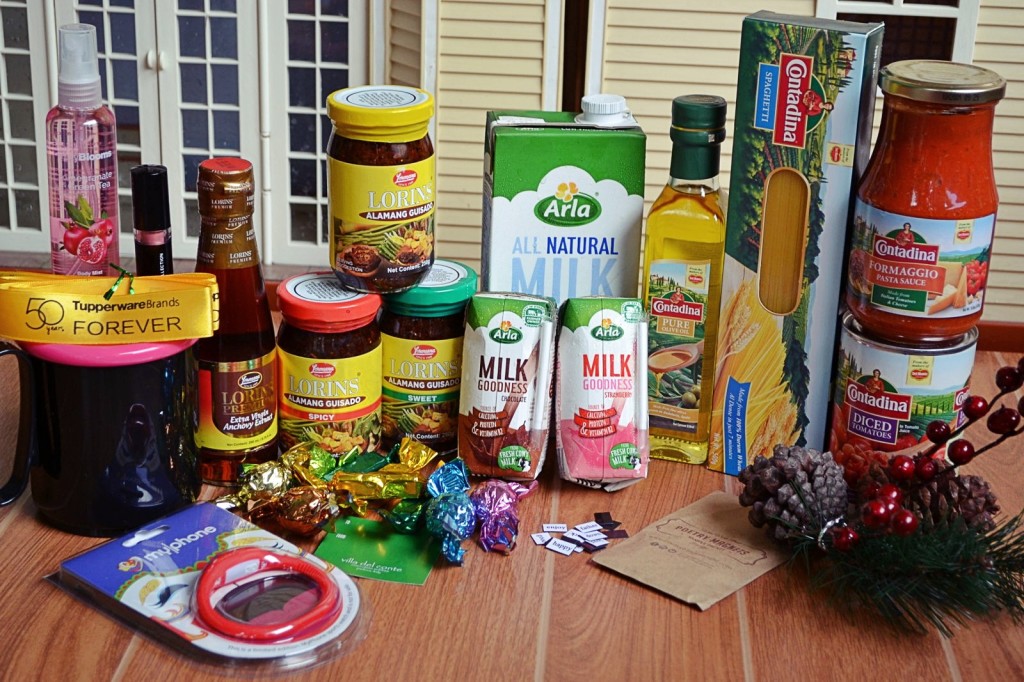 Contadina | Tupperware |Lorenzana Lorins Patis and Lorins Bagoong Alamang Guisado |myPhone watch |VillaDelConte chocolates |Arla | Poetry Magnets
To all those who made this virtual #giftswap possible, mommy Lani of tweenselmom.com, Louisa of Art of Being a Mom and mommy Joy of Joybites. Congratulations and it was a very successful one and I hope to be part of this  gift giving through the years coming.
MERRY CHRISTMAS TO ALL! ♥
Blogger owner behind this blog. Traveller I Customer Service l Freelance Writer l Work at home mom. Blogging is her way of sharing her thoughts, stating forthright, truthful point of views, and her journey with her preemie babies and as a homemaker.
Latest posts by Mommy Heart (see all)